Traffic Procedures Map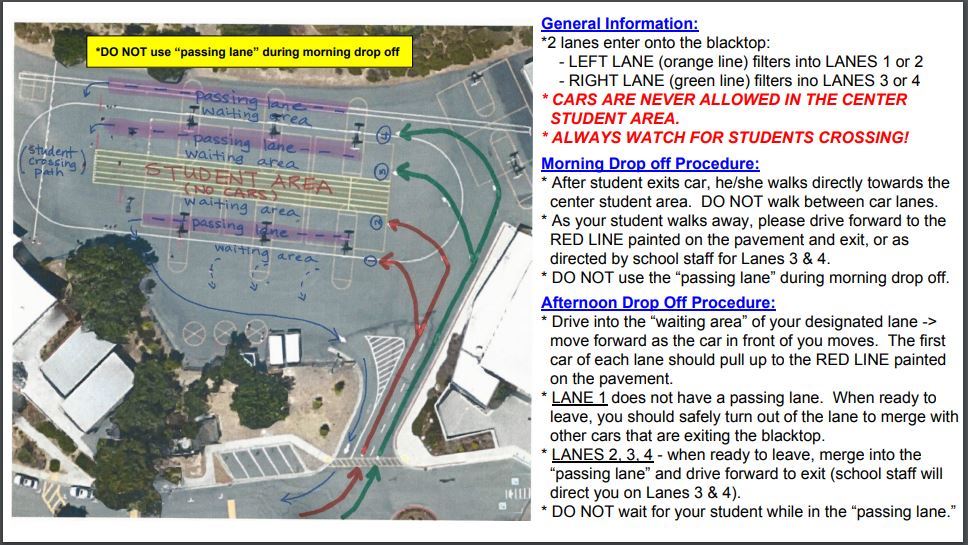 Drop-Off Procedures
Drop- Off:

All students that come to Crocker by car must be dropped off on the blacktop no earlier than 8:10am. To enter the blacktop, cars will enter the road from Ralston Avenue that travels up to the blacktop alongside the gym. We have added another lane there to get more traffic off of Ralston Dr. Once on the blacktop, cars will fill any of the four traffic lanes, two on each side of the white striped student staging area that runs down the center of the blacktop. When dropping off your child, please pull forward and come to a complete stop before your child exits the car. Before exiting the blacktop, look to the Crocker employee for exiting signals.

Pick- Up:

All students who are being picked up immediately after school, must be picked up on the blacktop. Cars will enter the blacktop like they do in the morning and they will fill the same four traffic lanes. Please pull forward as much as possible before your child starts entering your car, so more cars can enter the blacktop. Once your child is in the car, please look to the Crocker teacher for signals on exiting.

Pick- Up in Front of the MPR:

No student can be picked up in front of the MPR until 3:40pm. After school, all students who are to be picked up are to head to the blacktop where there is supervision. Once the traffic flow has calmed, the supervising teacher will release the students from the blacktop to head down to the MPR where they can be picked up at 3:40pm.